We all think that things get worse while we least expect them to be, and also whine over thinks which are not even worth whining for. If you are the one who think that things never go right for you, have a look at these poor people who basically broke all the records of having a bad day.
An intruding lion:
This man in the picture seems to enjoy a quiet day in the sun and having peace in the company of himself. Except that he was not in the company of himself, as there was a lion casually strolling near his tent and thought about saying him a hello. A perfect guest to have on an isolated place.
Re-bathing after a bath:
Having water splashes at a water park is so much fun and games but only when one wants to have that kind of watery fun. This dude, who was all dressed in black after a perfect jog seem to have a bad day as he was drenched in water after a car splashed gutter water at him, which by the way, is another debate to have.
Bad luck can engulf anyone:
This woman's dismay is clearly seen on the picture because of the fact that her expensive car is drowned on the deep puddle of water and she can not do anything so save it. It is not equal to losing a boat or a pen or even a cellphone. The loss is big and heartfelt.
Making friends with a hippo:
This young man is clearly running away from a 1000 pounds hippo who mistook him for either friend or food. Who knows? But the young lad is clearly terrified and is trying his best to save his life.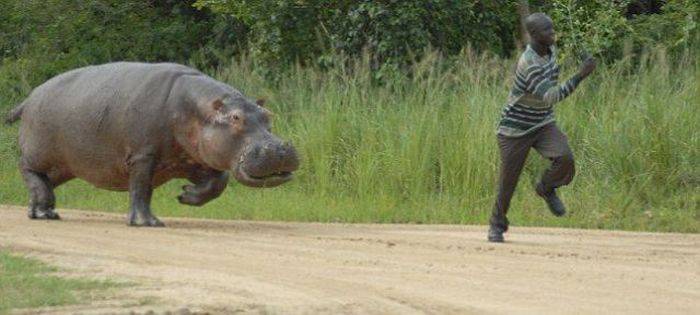 Pain is in the picture:
This image shows a poor, grieving man who managed to save himself from drowning with a shipment full of cars but failed. The cars seem to be drowning and the man informing his situation on call and worrying about the charges he has to suffer.
Airplane that lands on water:
This mismanaged and malformed airplane landed badly on water after it failed to work like it was expected to work.
Misjudging a picture:
This old woman is telling a woman younger than her a lecture for doing something she should not have done and the picture shows a different story of her abusing another.
Stuck between life and death:
This man is stuck between a railway track and a train but managed to survive. But now he is in a police custody as he was held suspicious for criminal offense.
A thing to remember:
This man had a lot of sticky notes all over his car in the morning, which either might be a prank or the people might really be fond of him.
Kick me but not where it hurts the most:
A harmless fun prank can be used for anyone who does not notice a piece of paper sticking on the back of his shirt which says "kick me". A fun game that can be played anywhere.