Thinking about self defense, most people would come up with some popular techniques to defend themselves, which might not be as affected as they would would be. One of those techniques is commonly known as 'The Wolverine' where you put keys or any pointed object between your fingers and use it to punch. Now, this may sound like an effective approach for self defense but, it really isn't. According to self defense instructors, this technique is nothing but a misconception. Every self defense instructor discouraged this technique. Gabrielle Rubin, the founder of self defense course, however, appreciates the fact that women are at  least trying to figure out ways of effective self defense. So instead of the one that is not as effective as it sounds, here are some techniques that you actually should learn if you are considerate about self defense.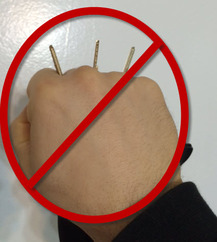 via
1.Use keys to give you a reach.

via
Rubin tells that the main reason why holding keys between fingers is discouraged is because, if you have to punch someone that way, that means the intruder is already too close to you. So, what he suggests is, using something called 'kubaton' for your keys. Its a small kind of key chain based on a small bamboo weapon that can be used for your self defense, in addition to hanging on wall.
2.Holding keys the right way
via
The founder of Krav Maga Academy, Matan Gavish tells that if you must hold the keys in your self defense, you need to do it in a way that it does not harm you. As appealing it might sound to hold the keys like your favorite marvel hero, it is not effective in self defense. In fact, it can damage your own hand. He explains, "First, the metal jagged area of the key can easily cause damage to the skin between the fingers when being used violently. Sharp pain like that can lead to opening of the fingers which will immediately reduce the effectiveness of any strike."
The base of the key might hurt your palm after you try to hit the bad guy so that could possibly make you throw the keys and if that's what the opponent is after then you just gave it to them on a silver platter. However, you can throw the keys on their face.
In the end, he says that if you really must use keys in self defense then hold then, "closing a fist around it with the sharp edge coming out the bottom or pinky side."
3.Jabbing or pounding?
via
Rubin explains the most easy way to use keys in your self defense. According to him, it all comes down to two options, poking or jabbing. If you hold the keys as shown in the picture then you need to go for sensitive areas like eyes, throat, solar plexus or groin. But, if you're holding them as more of a club then go for the area with lot of bones like hands; avoiding the areas with muscles like arms.
Chris Moran also gave a technique that can be used for an effective self defense. he suggested holding the keys in your hand and then hitting the opponent as if you're drawing a 'X' in the air. For the 'Wolverine' technique, Chris did not criticize it but, simply denounced its effectiveness. he said that the wolverine technique limits the punching ability.

via
The basic idea behind this was to let people know the right way to use keys in self defense since it's not important 'what' you're using, 'who' is using the weapon is more important so it all comes down to one thing, how you are using the weapon, whether its a bunch of keys or whatever it is. As its been rightly said " Its not the weapon but the hand that fields it."